---
Sharing marine and watershed resource management from Hawaii to Palau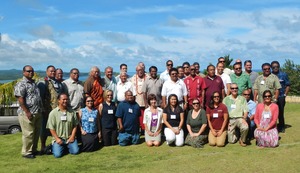 Hawaii-Palau learning exchange participants pictured here with the Palauan Council of Chiefs at the national capitol. © TNC.

Two weeks ago, The Nature Conservancy sponsored a delegation of Hawaiian and American Samoan community members to participate in a learning exchange with the Republic of Palau. Over the course of one week, Palauan leaders and community members shared their experience in merging traditional and modern governance systems in the management of marine resources and watersheds. Participants had the opportunity to learn about current efforts lead by communities, state and national governments, and NGOs in Palau for conservation and management of their natural resources. Challenges and lessons learned were discussed with local stakeholders to better understand how Palau's experience can contribute to resource management efforts in Hawaii.

The experience reinforced the importance of looking to your neighbors for new ideas and inspiration. We look forward to seeing all that comes out of this rich experience. We will be sharing the results of this exchange in our next newsletter and on our website. For reflections on this experience, check out Stephanie Wear's blog on Cool Green Science. Huge thanks goes to the John D. and Catherine T. MacArthur Foundation and NOAA's Coral Reef Conservation Prog ram for helping to make this experience possible!

---
Spotlight on the Lesser Sunda Ecoregion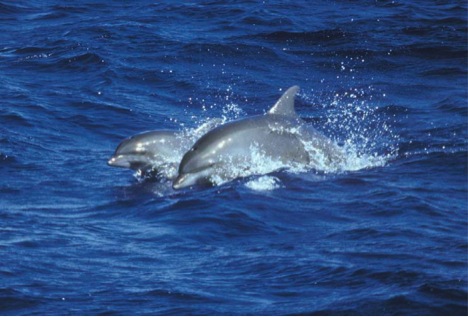 The Lesser Sunda Ecoregion is an important migratory corridor for cetaceans. © APEX Environmental.

At the southern end of the Coral Triangle, the Lesser Sunda Ecoregion stretches from Bali to Timor-Leste, covering an area of more than 45 million hectares. This region is of outstanding conservation value for coastal ecosystems. Coral reefs are highly diverse and have high levels of endemism, and six species of endangered sea turtles nest on the beaches of many small islands. This area is a major migratory corridor for cetaceans between the Indian and Pacific Oceans with 21 species of marine mammal including blue whales and sperm whales recorded. Other large marine species such as dugongs, manta rays and whale sharks are also common in this region.

Although the islands of the Lesser Sunda are sparsely populated (ca. 13 million), resource management issues include destructive and overfishing and harvesting of cetaceans and turtles, coastal development and mining. These practices threaten both conservation values and sustainable resource use. Developing an MPA network is one strategy to reduce these threats and, by incorporating principles of resilience, to also address the threat of climate change.

Read More.


---

"Caribbean Creep" Chills Out: Climate Change and Marine Invasive Species

Hot, Sour, and Breathless: Oceans Under Stress

Settling into an Increasingly Hostile World: The Rapidly Closing "Recruitment Window" for Corals

Report and Online Tool: Climate Change in the Pacific: Scientific Assessment and New Research

Follow us on Twitter and Facebook for coral reef news and R2 Program updates!


---
41st Annual Benthic Ecology Meeting
March 21-24th, 2012
Norfolk, Virginia

Climate Adaptation in Action Conference 2012
June 26-28, 2012
Melbourne, Australia

12th International Coral Reef Symposium
July 9-13, 2012
Cairns, Queensland, Australia