---
FRRP Background:
The Florida Reef Resilience Program (FRRP) is a multi-year effort to develop management approaches and tools to better cope with climate change impacts and other stresses to south Florida's coral reefs. The program started in 2004 after creation of a Memorandum of Agreement to facilitate sharing knowledge and best practices for resilience-based management among the State of Florida, the National Oceanic and Atmospheric Administration and Australia's Great Barrier Reef Marine Park Authority. The program is designed to improve understanding of reef health in the region and to identify factors that influence the long-term resilience of corals, reefs and the entire marine ecosystem. With this knowledge in hand, coral reef managers and users can work toward resilience-based management strategies that maximize the benefits of healthy reefs while seeking to improve the condition of those that are less healthy. Ultimately the FRRP seeks to improve ecological conditions of Florida's reefs, economic sustainability of reef-dependent commercial enterprises and continued recreational use of reef resources. For additional information please check out the Florida Keys Case Study.
---
Spotlight on Federated States of Micronesia (FSM) Case Study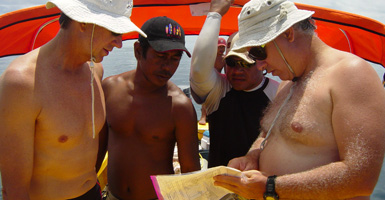 Lyndon DeVantier, Kirino Olpet, Eugene Joseph, Emre Turak pick sites at And Atoll during the Pohnpei REA. Photo: Louise Goggin
An excerpt from the case study: Currently the FSM core team is incorporating the principles of resilience into guidance for state partners as they develop state protected areas networks and work toward achieving the goals of the Micronesia Challenge (MC), an ambitious initiative by the jurisdictions of Micronesia to effectively conserve at least 30% of their nearshore marine resources and 20% of their terrestrial resources by 2020. With the help of the core team, the states are also working toward a standardized monitoring program to measure some key regional indicators to assess broad trends in the country and track progress toward achieving the goals of the MC. Also as part of the MC, a communications campaign is being developed by a communications working group that will incorporate the principles of resilience (currently in draft form, but can be shared when finalized). Read More...
---
Fourth Global Conference on Oceans, Coasts, and Islands, April 7-11, 2008
Hanoi, Vietnam

Resilience 2008: Resilience, Adaptation, and Transformation in Turbulent Times – International Science and Policy Conference, April 14-17, 2008
Stockholm, Sweden

Florida Reef Resilience Program Conference, April 22-25, 2008
Key Largo, Florida

Effects of Climate Change on the World Ocean, May 19-23, 2008
Gijon, Spain

Coping with Global Change in Marine Socio-Ecological Systems, July 8-11, 2008
Rome, Italy

11th International Coral Reef Symposium, July 7-11, 2008
Ft. Lauderdale, Florida
There will be several Reef Resilience activities at this meeting - stay tuned!


Back to top »

---
Recent Publications and Other Resources
Shifting Baselines, Local Impacts, and Global Change on Coral Reefs.
Note: This article is published in Public Library of Science and thus this work may be freely reproduced, distributed, transmitted, modified, built upon, or otherwise used by anyone for any lawful purpose. We hope to see more work published there so that everyone can access new developments.
Related News: Coral Reefs and What Ruins Them
Marine Reserves: Size and Age Do Matter and related news article
New Tools to Meet New Challenges: Emerging Technologies for Managing Marine Ecosystems for Resilience